Your Next
hcm

Solution!

Get a feel for the power, simplicity and scalability of iSolved HCM! These videos will give you a quick look at the building blocks of your total solution. To learn more, please complete the form to the right and a Payroll Network HCM Solution Consultant will be in touch to prepare a free, no obligation customized presentation and demonstration uniquely tailored for your organization.
iSolved HCM Overview
iSolved stores all of your employee data in a single system, so once a new employee comes on board, that one master record is used for everything, no matter what happens. Any authorized person can make a change which updates all related records. And since it is all automated and data is entered only once, so you know that compliance is no longer a concern. Enter it once and forget it! Please enjoy this overview of iSolved HCM.

Time & Labor Management Overview
iSolved | Time
Using the latest technology, iSolved® Time enables you to collect, manage and process time to more effectively manage your employee time and attendance data. Move beyond outdated time sheets, spreadsheets and time clocks to process employee time and attendance with proficiency. iSolved® Time is an optional component of our core iSolved HCM solution, providing you with a feature-rich time tracking application all from the same access point as your payroll, HR and benefits.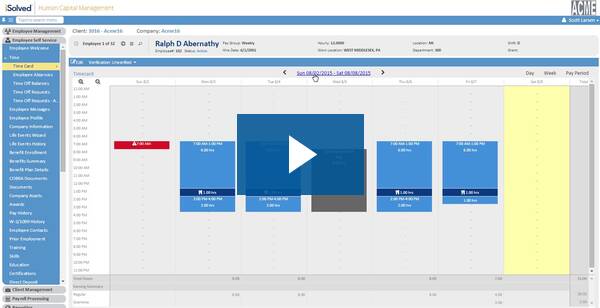 Talent Acquisition & Applicant Tracking Overview
Applicant management and recruitment could not be simpler with iSolved® Hire. iSolved Hire simplifies the process from start to finish. Using template and the ability to post multiple job boards at once saves you valuable time and allows you to get to that top talent with ease!